Industrial
Industrial Painting in the Palm Beach Area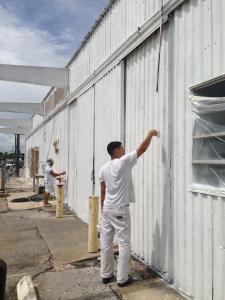 Industrial structures have special coating and maintenance requirements, Triple Quality Painting Inc. has the right solution for the surface. Whether the substrate must endure a harsh environment, withstand frequent cleaning, or if its coating must be free of impurities, we have the expertise and precision to handle the demands of your project. We provide a complete range of surface preparation, rigging systems and protective coating applications, for all types of industrial buildings and structures.
We Are Proud to Offer the Following Industrial Services:
Bridges
Water Treatment Plants
Wate Water Plants
Elevated Water Tanks
Factories
Warehouses
Storage Facilities
Distribution Centers
Manufacturing Facilities
Mechanized Unites
Why Should Triple Quality Painting Inc. be Your Choice For Industrial Painting?
Your business is one of your most valued assets, and something in which you should take pride. We want to help you maintain that investment with quality painting and unmatched service. We're a part of the business community as well, so we are investing in your success, as well as our own. This is why we want to work with you – so you can experience Painting Done RIGHT!
If you're looking for Professional Painters in Palm Beach County,
then give us a call today at (754)-245-0859 or Request A FREE Quote.
Contact Details
9835-16 Lake Worth Rd, Suite 154
(754) 245-0859
Contact Form Triple Quality Painting